80% of infectious diseases are spread by indirect contact: bacteria, viruses, fungi ...these microorganisms present in public places are in fact mainly transmitted by hands via contaminated surfaces such as door handles or cylinder knobs.
To meet the needs of its customers in terms of access control but also prevention of health risks in this even more risky period, DÉNY SECURITY adds to its product portfolio, the Optimal Hand digital handle and the Optimal Lock cylinder in an antibacterial version and to its customers to combine safety and health.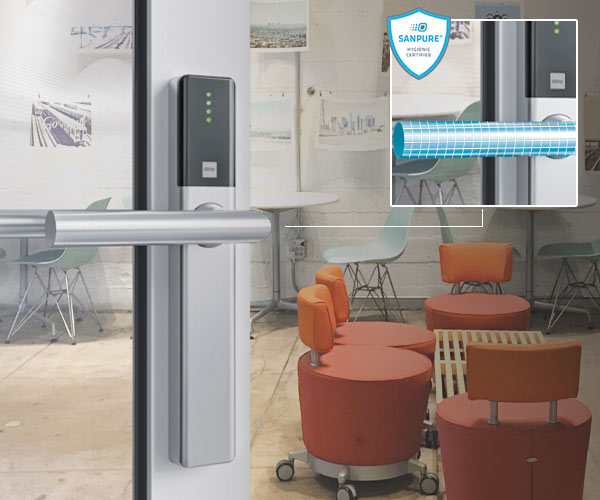 Antibacterial Optimal Lock: THE solution for a healthier environment!
In all buildings or companies where the flow of people is important and more particularly in so-called sensitive environments such as hospitals, laboratories, retirement homes or schools ... hygiene is essential to avoid the transmission of diseases or infections.
To provide effective protection and limit the proliferation of unwanted germs carried by the hands throughout the day, DENY SECURITY has bet on nanotechnology, with silver ion as its main active ingredient.
The Sanpure® nanosilver coating
Incorporated directly on the handle of the Optimal Hand or on the knob of the Optimal Lock, the Sanpure® nanosilver coating provides invisible protection and eliminates up to 99.9% all types of bacteria and microbes.
Colorless, the substance composed of silver ions, which it is impossible to remove from the treated surface, remains active for many years for guaranteed hygiene over time and significantly reduces the risk of infection for users, employees as visitors.
This solution is an option offered on the entire Optimal Hand and Optimal Lock product range.