In recent years, the trend in hotel security has been towards invisible access control systems and the development of designer readers to replace traditional locks. A major player in the field of access control for the hotel sector, Dény Security is today launching Narrow Fit, a full access control system which reflects these trends by combining performance and design.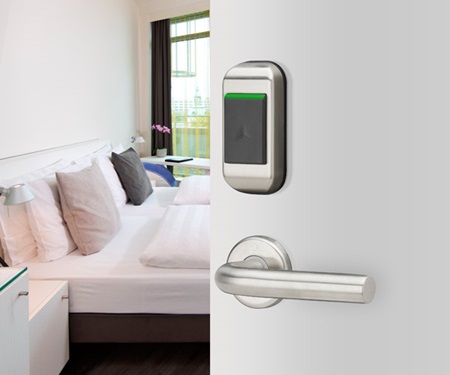 Based on radio-frequency technology or RFID, the new hotel management system developed by Dény Security revolutionizes access control for hotels by offering them a solution with elegant design that is reliable, and simple to install and use. Enabling contactless communication between the access card and the reader, this technology, in combination with simple software, ensures efficient door management. A complete system, Narrow Fit offers a solution that is perfectly adapted to the needs of every establishment, from the large business hotel to the charming local hotel, from a tourist complex to a city center hotel.
Nano, Adapt and Slim: functionality and design
As a universal solution, Dény Security hotel management comprises three models of standalone (wiring-free) electronic lever handles that are easy to install in both new buildings and renovations:

NANO whose restrained and minimalist design enables it to integrate perfectly in all surroundings, whatever the style of decoration. Irrespective of the system, the handles can be chosen from a wide range of options.
ADAPT, specially designed to work with already-installed mechanical locks. Offering great versatility, it adapts to offsets larger than 22 mm and for handle to cylinder spacings larger than 70 mm.
SLIM, with its long, narrow and elegant design, is perfectly suited to all types of installation.
All interior and exterior handle models are designed using a zinc/aluminum alloy, making them extremely lightweight and robust.
Perfectly matched to the requirements of the hotel sector, their looks - which break with the conventional, anodyne lines of traditional lever handles - will win over architects and interior design professionals.
Reliable and with an elegant design, Narrow Fit once again illustrates that Dény Security is a vital player in the hotel sector.
To consolidate its position as a privileged partner, Dény will be presenting this new full hotel management system, as an exclusive, at the Equip'Hôtel trade fair from November 6 - 10 2016 at Paris Porte de Versailles (Hall 7.1 - Stand C44).